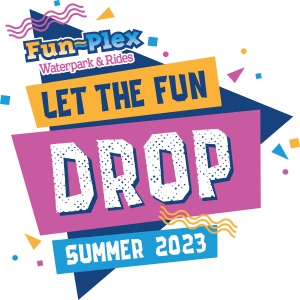 2023 Park Updates & News
Each season Fun-Plex makes changes to our attractions and services to assure we are providing top notch fun and a pleasurable experience as Nebraska's Largest Waterpark.  Check out some of the updates you can expect in 2023.
Rockin' Rapids Gets Rockin'!
Our enclosed blue slide will transform into a full sensory experience with the installation of a new light and sound system that will surprise riders' senses like never before!
Enjoy all four unique experiences and get rockin' at Rockin' Rapids!
Goodbye to Mini Golf
During consultations with industry experts to refurbish our aging course, we have unfortunately discovered that it is beyond repair.  Therefore, the mini golf course will be removed before the 2023 season and it will no longer be available as part of the park's attractions.  
Mini golf has been a staple of Fun-Plex for more than 40 seasons and we are grateful to all who have shared a round with us over the years! 
Click HERE to take our survey if you would like to leave us input about mini golf at Fun-Plex.
New Cabanas & Upgrades
Fun-Plex will be expanding our cabana offerings with even more cabanas in 2023! Plus, ALL cabanas will be equipped with brand new beautiful commercial grade furniture.
We are also excited to introduce Cabana Service, order select items right from your mobile device and enjoy delivery right to your cabana!
Camp Fun-Plex
We will not be offering camp sessions in 2023.  After 12 amazing summers, we are bidding a fond farewell to Camp Fun-Plex.  Thanks to all who shared this unforgettable experience with us!
Park Hours & Calendar
Hours: Fun-Plex will be open daily from 11am-7pm from Saturday, May 27th through August 16th, and weekends through Labor Day Monday.
Twilight Admission: Fun-Plex will no longer offer reduced daily admission rates after 4pm as a part of our standard options.