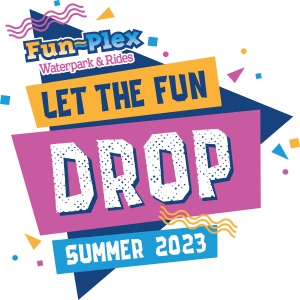 2023 Park Updates & News
Each season Fun-Plex makes changes to our attractions and services to assure we are providing top notch fun and a pleasurable experience as Nebraska's Largest Waterpark.  Check out some of the updates you can expect in 2023.
Rockin' Rapids Gets Rockin'!
Our enclosed blue slide will transform into a full sensory experience with the installation of a new light and sound system that will surprise riders' senses like never before!
Enjoy all four unique experiences and get rockin' at Rockin' Rapids!
Road Work in the Area
NOTICE: ROAD WORK IN THE AREA
Sections of Q Street between 60th and 72nd street are closed due to construction.  Reaching Fun-Plex from 60th street may not be possible.  It is suggested to take 72nd street to S. 70th and enter at our South Parking lot near the waterslides.
Chaperone Policy
In order to keep the park a safe and fun place for all to enjoy, guests under 16 must be accompanied by a chaperone who is at least 21 years old. Each adult chaperone can accompany up to six youths. Chaperones must remain within the park for the duration of their party's visit.  Any guests causing a disturbance may be subject to ejection without refund.
We believe this policy will help to ensure a positive experience for all of our guests.
Goodbye to Mini Golf
During consultations with industry experts to refurbish our aging course, we have unfortunately discovered that it is beyond repair.  Therefore, the mini golf course will be removed before the 2023 season and it will no longer be available as part of the park's attractions.  
Mini golf has been a staple of Fun-Plex for more than 40 seasons and we are grateful to all who have shared a round with us over the years! 
New Cabanas & Upgrades
Fun-Plex will be expanding our cabana offerings with even more cabanas in 2023! 
We are also excited to introduce Cabana Service, order select items right from your mobile device and enjoy delivery right to your cabana!